August 2007.  The world did not end, but the real estate market did.
It fell off the table.  It sank to the bottom of the sea.
There is no easy way to describe how it felt when the phones went silent.  No more regular sales, only REOs.
Housing prices dropped 35-40%.
But today. housing values have regained all that drop, and the market remains healthy.  Prices are up, inventory is low, sales are brisk, mortgage rates continue to be very attractive.
In October 2007, the Dow Jones Industrial Average was at 14,000.  In March 2009 it hit 6,500.  Today it topped 22,000.  Thank goodness.  Thank the Fed.  Thank Janet Yellen.  We can thank many people that kept us from going from Recession to Depression.  But we made it, the sky did not fall, the world did not end.  It was painful, but we are back to normal.
Or, maybe we are back to a new normal.
For example, previous wisdom of a balanced market and a normal inventory was described by six months of sales.  Let's see how close we come to that.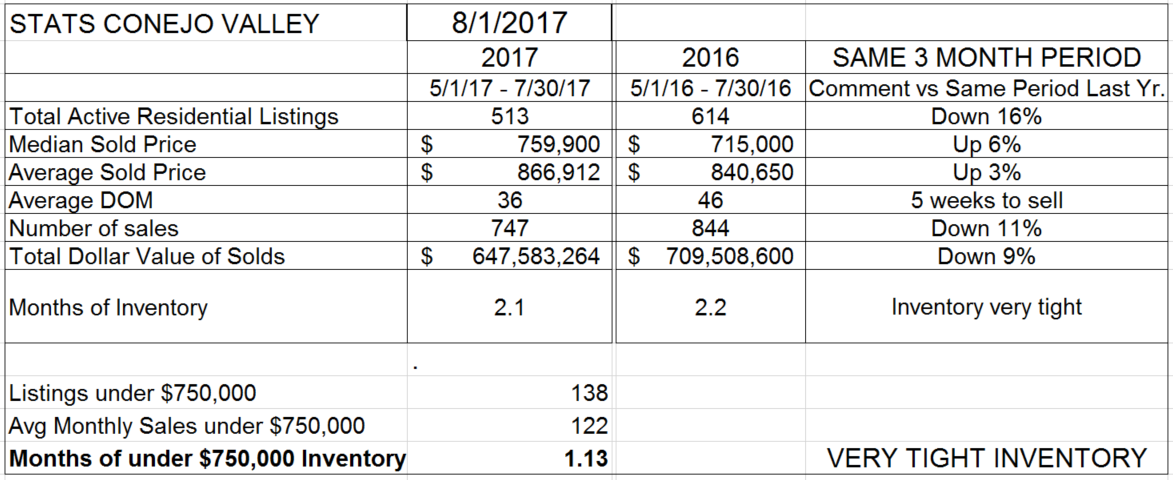 Conejo's months of Inventory figure is only 2.1 months.  But last year at this time it was  2.2 months.  We have been at this level for many years now.  Six months is no longer the norm indicating a normal market.  Not for our market.  If you look at a market somewhere else, you might hit a six month inventory.  But here, in our area, 2-3 months of inventory is typical.  Therefore this is the new normal.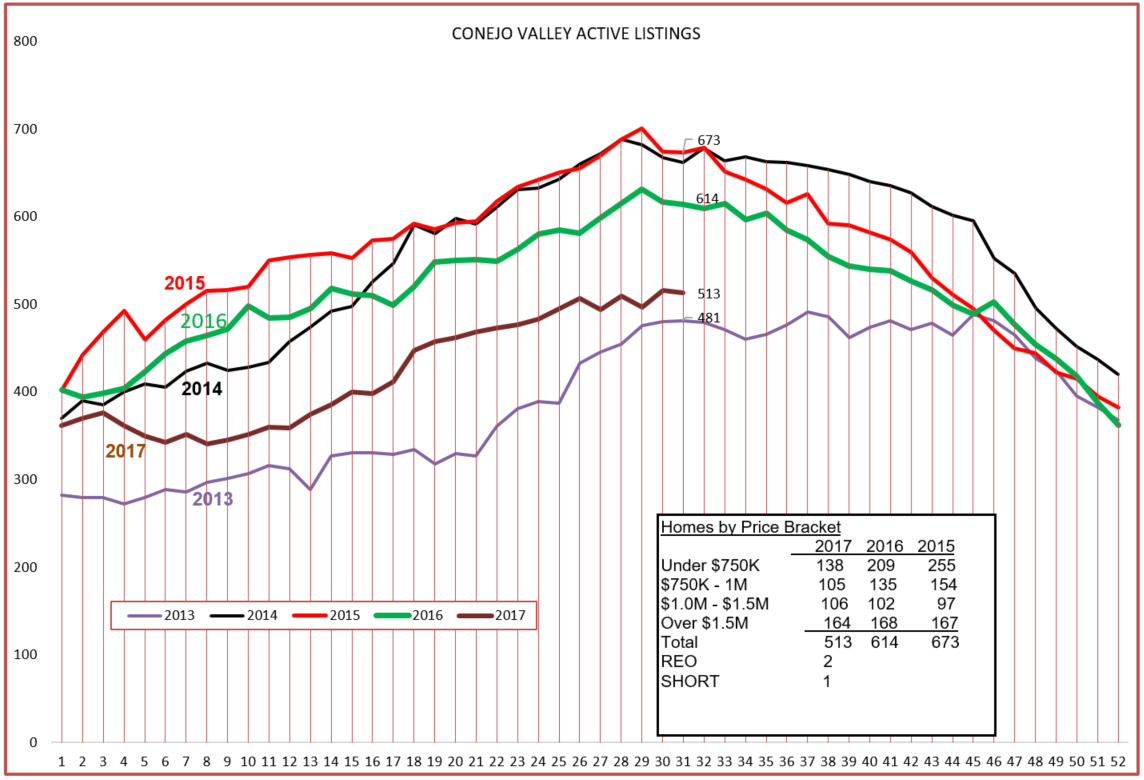 Our inventory is down 16% from the same time last year, and down 24% from 2015.  All of the inventory drop is in homes priced below $1 million (see the box above).  If sales were at the same level over these three years, that would put a lot of pressure on prices.  However, the number of sales is also down, by 11%.   We initially explained the lower sales volume by pointing to the lower inventory.  "If we had more houses to list, we would sell more."  I am not so sure this works to explain Conejo Valley.
If demand remains high and inventory is too low to fill the demand, prices will rise.  And they did, but only by 3-6%.  Not much more than overall inflation.  Lower priced homes are rising the fastest, and higher priced homes have become less of a factor, driving the average price closer to the median price.  This is telling us that the number of homes we are selling today is adequately filled by the lower inventory available.  If not, prices would be rising strongly.
Let's see if the same thing is happening in Simi Valley and Moorpark.

Months of Inventory figure here is only 1.6 months.  Last year at this time it was 1.8 months.  We have been at this level for many years now.  Six months is no longer the norm indicating a normal market. In our area, this is the new normal.  2-3 months worth of sales.
The inventory mix is different than in Conejo, with most home sales in the affordable area below $750,000.  That inventory is closer to only one month, and it accounts for the majority of the sales.  We can see that prices in this area have increased more, 7-10% year to year.  Even with inventory very low, the number of sales is actually up 3% versus last year.  I don't make the same assumption for Simi/Moorpark as I did for Conejo.  In this valley, I think we could sell more homes if we had them to sell.  And with demand strong, that is why prices have risen, 7-10%.  There continues to be strong demand in this price range, which is the bread and butter area for housing prices in Simi/Moorpark.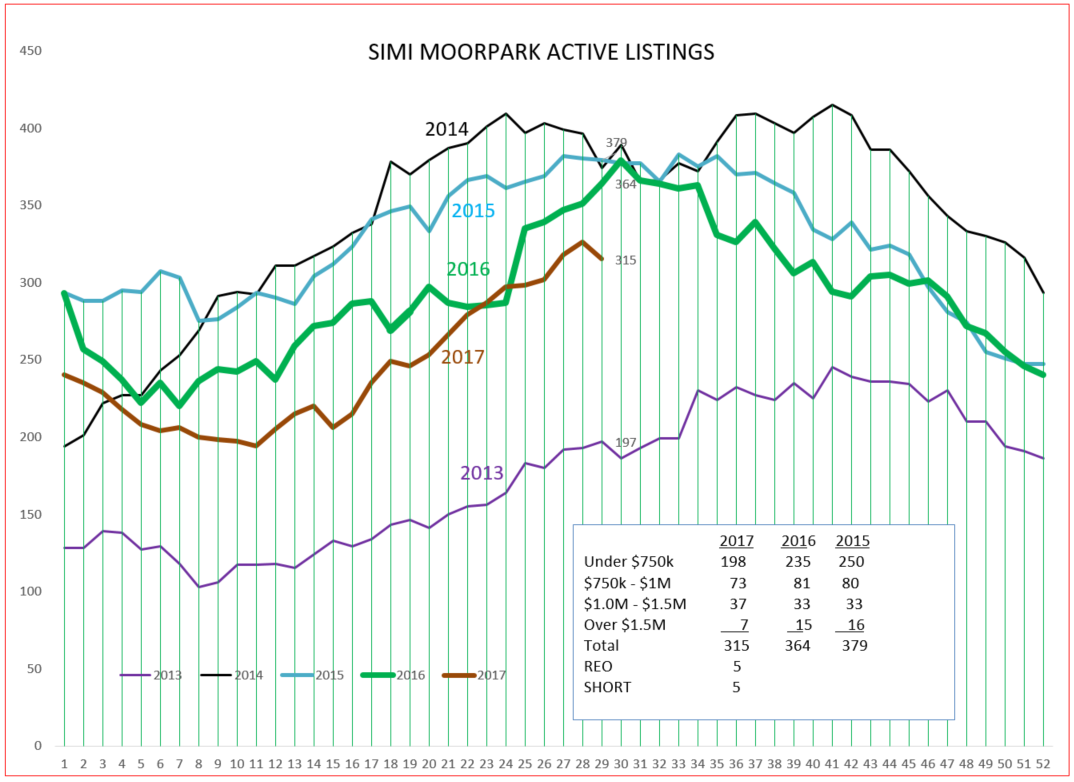 No bubbles perceived.  No bubbles on the horizon.  Strong sales, with the inventory curve in line with what we expect this time of year.  Inventory is due to turn down as we enter the fall months.  Sales will also turn lower as we enter the fall months.
One of my favorite economists, Dr. Mark Schniepp, recently opined that the economy is boring.  Or Goldilocks.  Not too hot, not too cold, just right.  Boring is good.  We never want to go back to the excitement we had 10 years ago.
Does this sound right to you?  Or do you analyze things differently?  I would be very happy to hear your thoughts.
Have a great year.
Chuck