The market is both strong and weak.  It all depends where you are.
Are you doing business in Simi Valley or Moorpark?  Business is good.  There is no shortage of inventory, with 46% more homes listed today compared to one year ago.  The sweet spot remains homes priced below $1 million, and particularly below $750,000.  These homes are affordable.  Affordable to blue collar works, police, fire, teachers, all can move to one of these homes for the same amount they currently pay for rent. The number of sales is 9% higher than the same period last year, up 11% for homes priced below $750,000.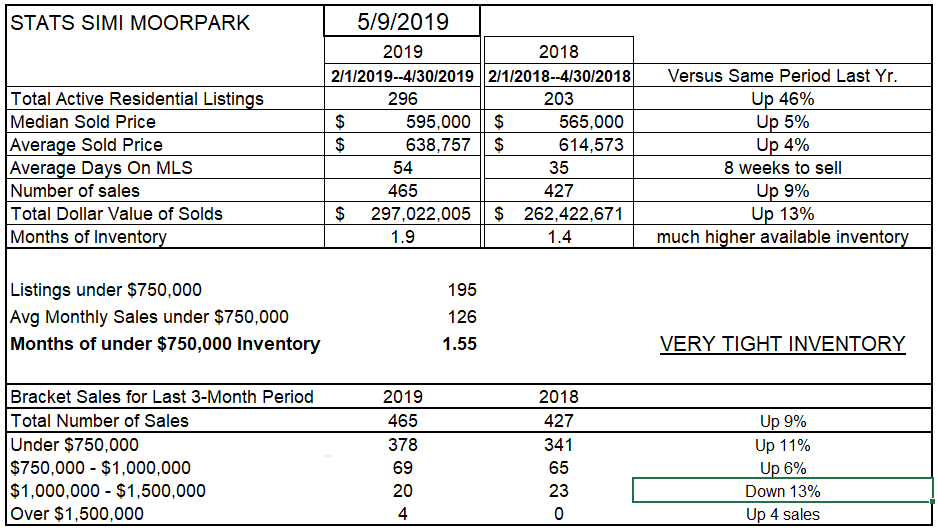 Are you doing business in the Conejo Valley?  Business is not as good.  Inventory is plentiful, about the same amount as last year at this time.  There is no sweet spot in pricing.  Look at the bottom half of the chart just below and you will see that all price levels are lower in the number of sales.  The highest price category, above $1.5 million, had 46% lower sales in the previous three months of this year as compared to the same time period in 2018.  Median prices are up 1% versus last year, but average prices are down 6% due to the influence of the highest price homes.  Overall, the number of sales are down 10% compared to the same three months last year.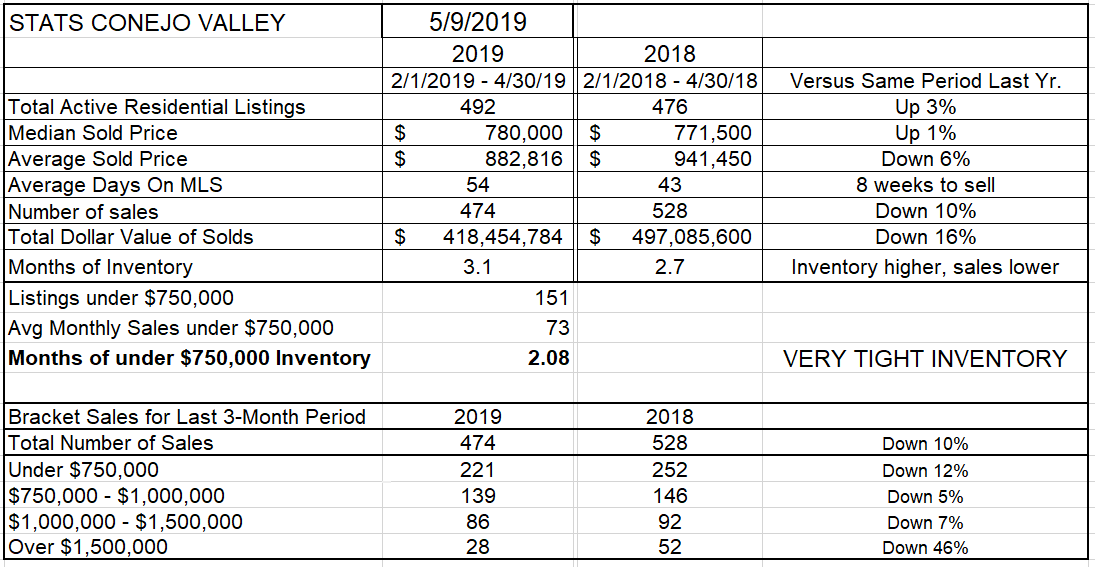 Let's see how the available inventory compares to previous years.  In Simi/Moorpark, the inventory levels have remained flat so far this year, at a time when the summer season normally sees an increase in inventory.  There is inventory coming onto the market, but the 9% higher sales level is absorbing it quickly.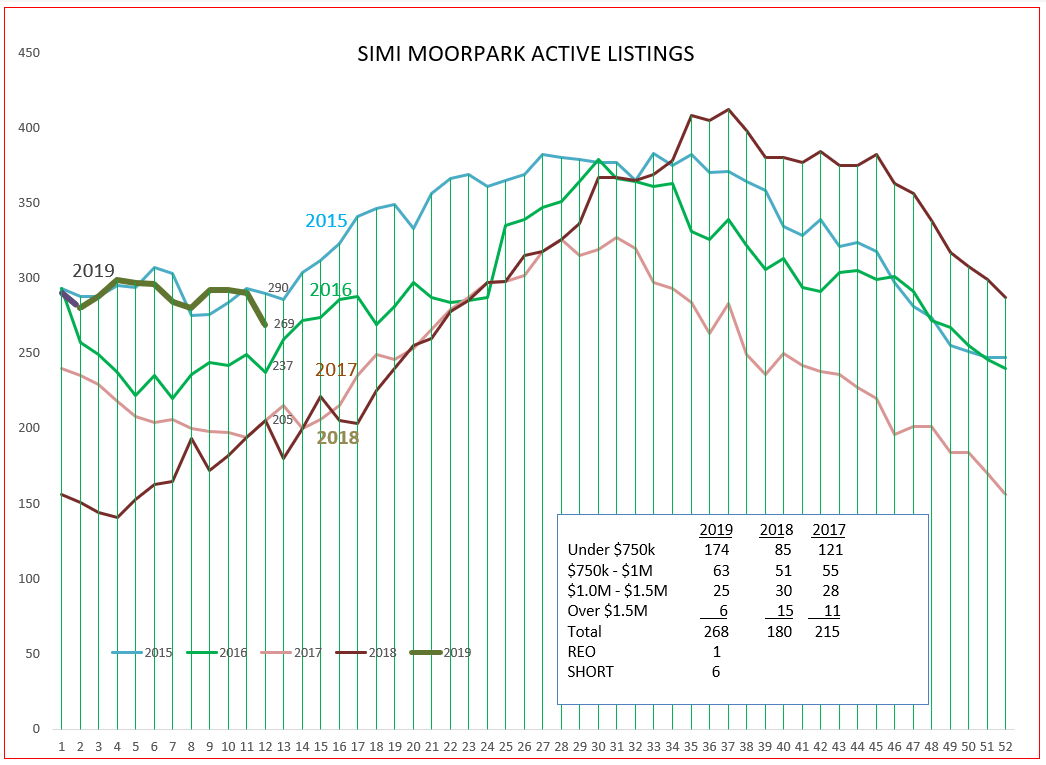 In the Conejo Valley, the climb in inventory is very regular, behaving just as expected.
Let's see the price charts next.  For Simi/Moorpark, prices have been consistently increasing, with weakness at the beginning and end of the year.  Median prices have had strong downward pressure the past two months, indicating that even though sales have been strong, there is a level at which homes are no longer affordable, and negotiations are pushing prices down.  That level in Simi Valley/Moorpark is around $600,000.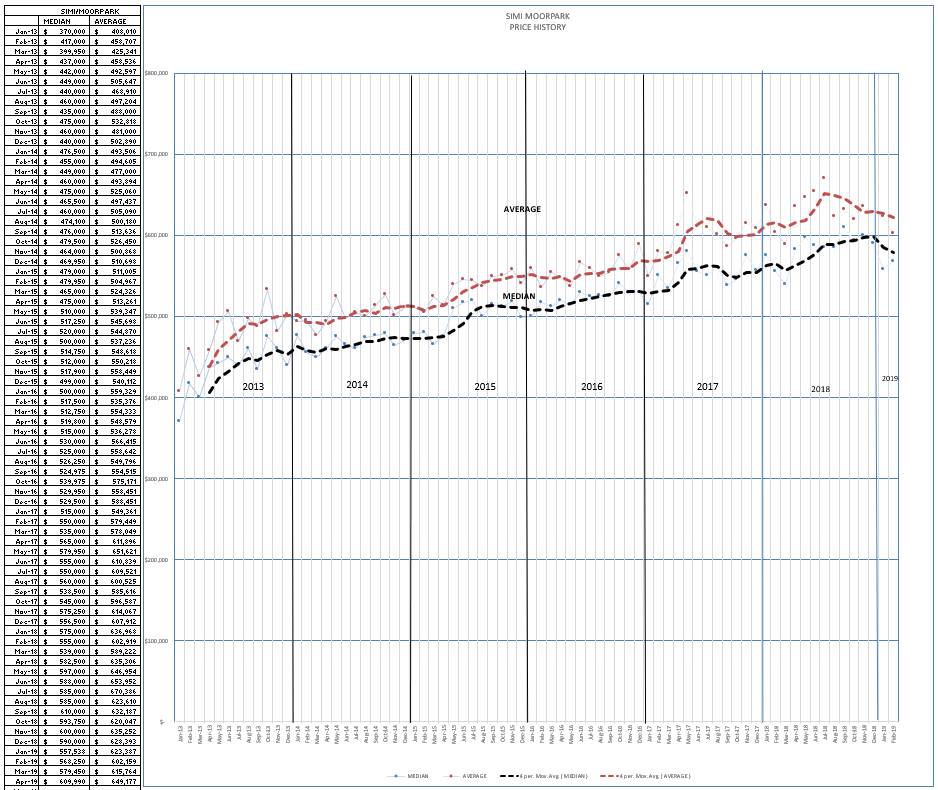 The Conejo Valley has is more strongly influenced by high priced homes.  Median prices have not dropped nearly as much as the precipitous drop of Average prices, due to the lack of high priced home sales.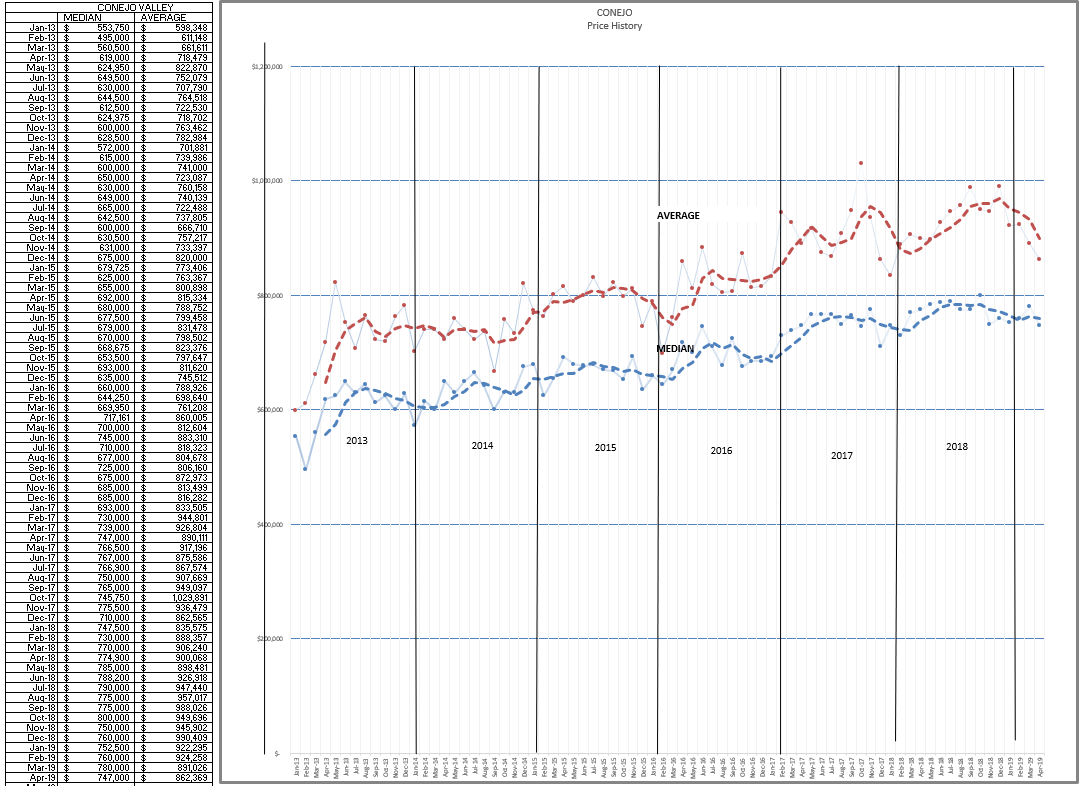 We are not in a death spiral, things continue reasonably well, but there are some negative forces appearing on the horizon.  Lest we forget about the terrible fires we had recently, the insurance companies have paid out huge amounts of money, and they will be working diligently to replace those funds.  Homeowners will soon be getting letters of large increases, some will be getting notices that their policies will not be renewable, and as insurance costs rise, homes sales and prices will experience more downward pressure.
For a while, the market right now may be as good as it gets.
Have a wonderful summer.
Chuck