The latest statistics show a continuation of what we have been experiencing in the first part of this year.  The Conejo Valley is slower, across almost all price ranges, while Simi/Moorpark is doing well as compared to last year at this time.
Conejo has a stable inventory, 3% lower than last year at this same time.  But sales are down, down 12% when measuring the past three months compared to the same months last year.  As a result, prices are stable, with the Median price the same as last year.  Due to the lack of high dollar home sales (down 23% compared to 2018), the Average sold price is down 1%.  Inventory remains reasonable when compared to the lower sales level, still under 3 months of inventory, a very good level.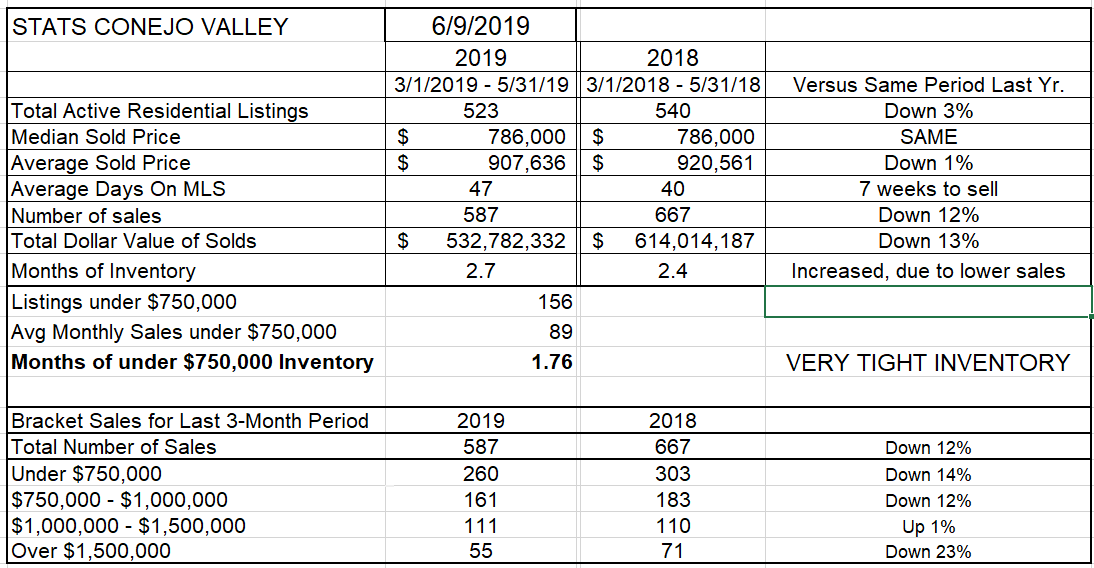 Simi Valley and Moorpark is a much stronger market.  Hampered last year by low inventory, a 13% increase in inventory as compared to last year has helped sales achieve a 4% increase, and prices are up 4%.  The inventory is still tight, 1.7 months worth of sales, compared to only 1.6 months last year at this time.  The majority of Simi/Moorpark sales are below the $1 million price tag, and  sales number increases are across all price ranges.  Simi/Moorpark has a Median sold price $200,000 below Conejo, and more homes available in that price range.  Buyers are shopping for homes they can afford, and Simi/Moorpark is more affordable.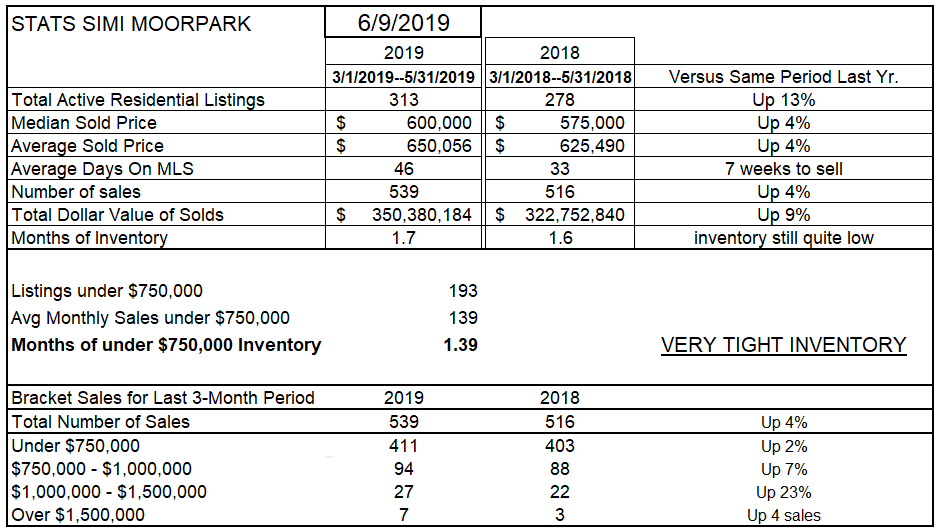 The inventory chart for Conejo shows the 2019 inventory curve closely following the normal pattern of the past 4 years.  No surprises here.  Looking at the annual comparisons in the box below, inventory availability grew strongly in the under $1 million categories, and remains reasonable in the range of $1-1.5 million homes.  The inventory of over-$1.5 million homes is much lower than the past two years, even though the number of sales over the past three months are 23% lower than last year.  We would usually expect this inventory to grow due to the lack of sales.  Maybe a lack of interest both in selling and buying?  Stacy Richardson shared with me that homes priced above $3 million are mostly selling with multiple offers, so the soft spot seems to be homes priced between $1.5 and $2.5 million.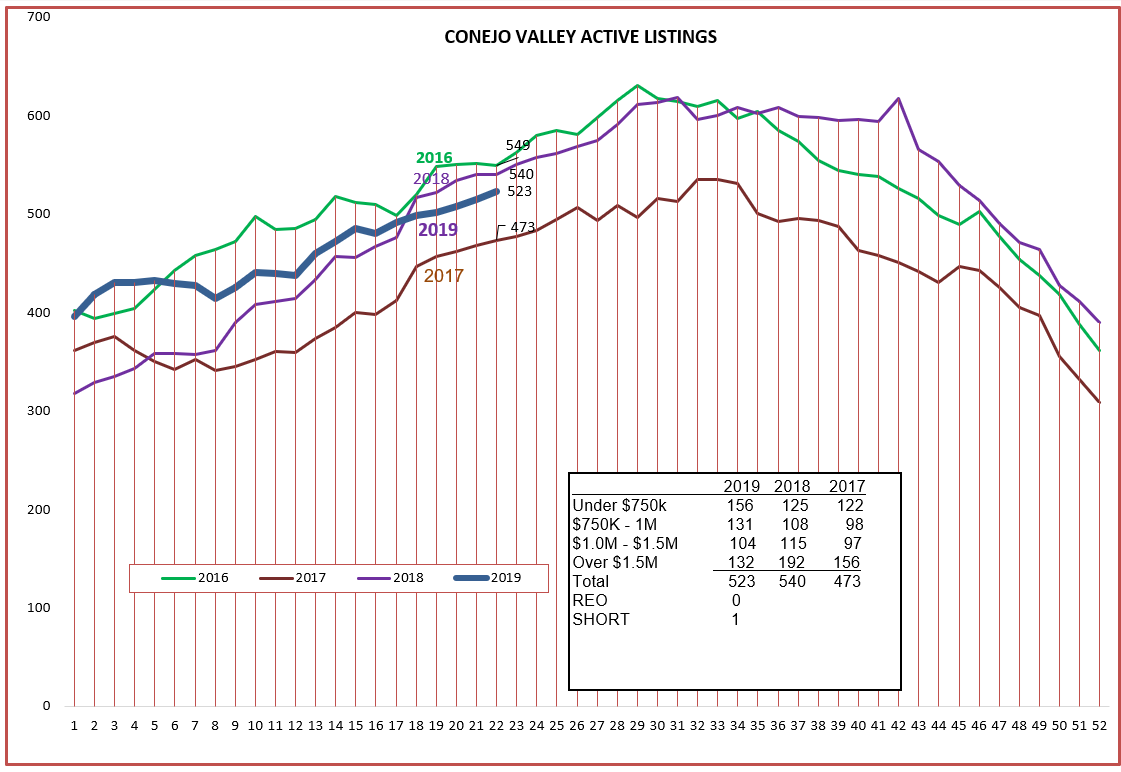 For Simi/Moorpark, the inventory curve is anything but normal.  Go back to 2018, when we began the year with a very modest 150 homes, and the inventory grew very strongly throughout the year, and kept climbing past the usual downturn at the end of summer.  2019 began with twice as much inventory (300) and has been stable throughout the first five months of this year.  This lack of growth has the best possible reason: strong sales.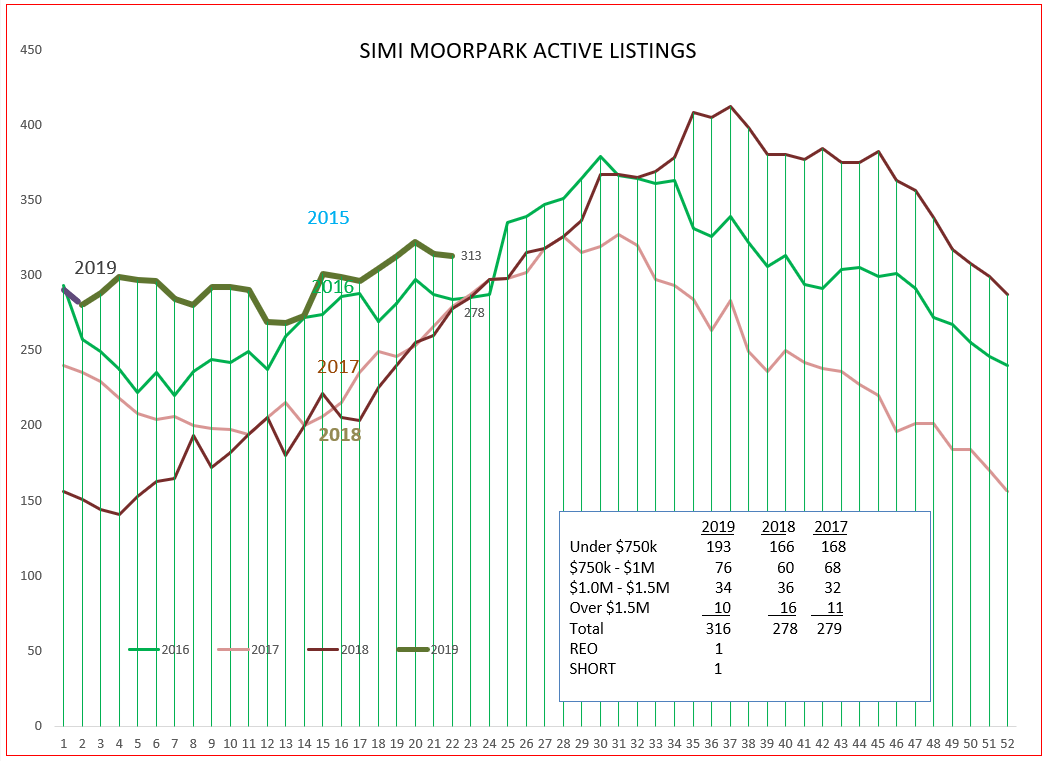 Do we see a change in the sales volume as we head into the summer?  Is it rising as should be, or taking a pause?  For Conejo, the last two months still show a weakness in sales, with fewer homes sold for each month.  But we are feeling an uptick in sales, with the difference between last year and this year starting to disappear.  That is not cause for jubilation, because as you can see below last year was a fairly weak year compared to previous years.  The number of escrows always dip at the beginning of a year before rising (a result of weak home sales in December).  But 2019 experienced a drop in the 8-week average below 30 closed escrow per week, the weakest level for any recent year.
For Simi/Moorpark, very strong sales have occurred, but have slowed down for the last two months, with the 8-week average peaking, and sales in May 2019 below the level seen in 2018.  For the 3-month period, sales are higher than 2018, but not to the level that they have been.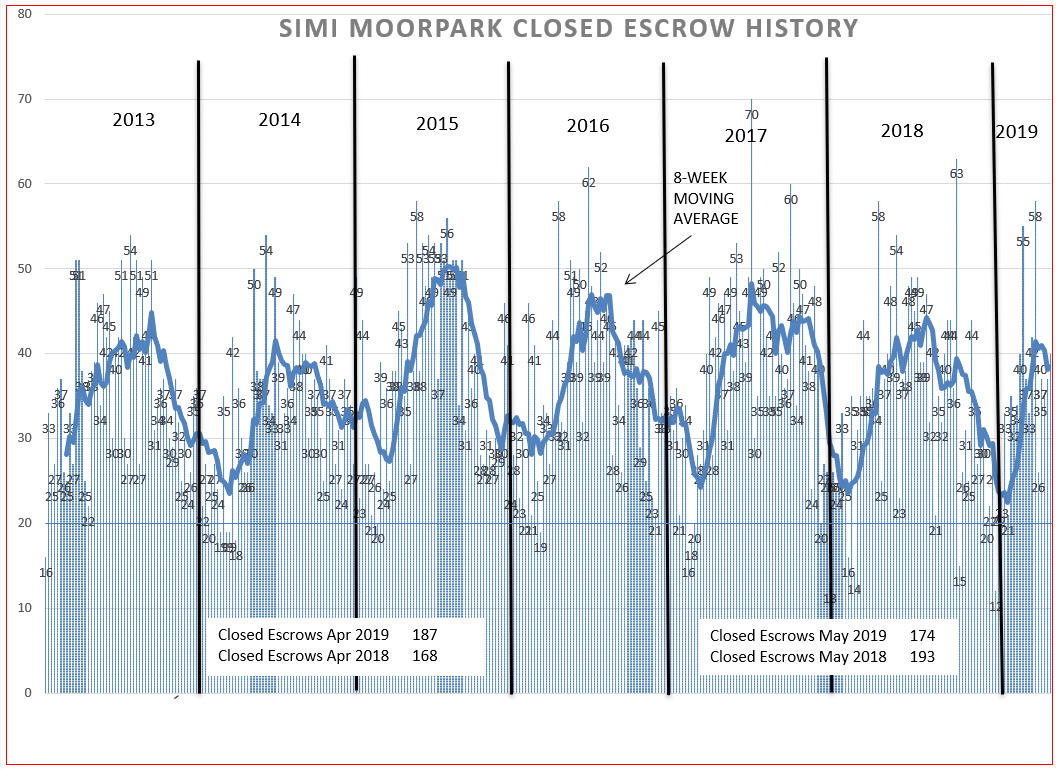 Finally, lets look at how prices have been tracking.  These are monthly prices, not 3-month prices.  Conejo Median prices have been flat, while Average prices have dropped.  The difference (space) between these two lines is influenced by the number and percentage of higher priced homes.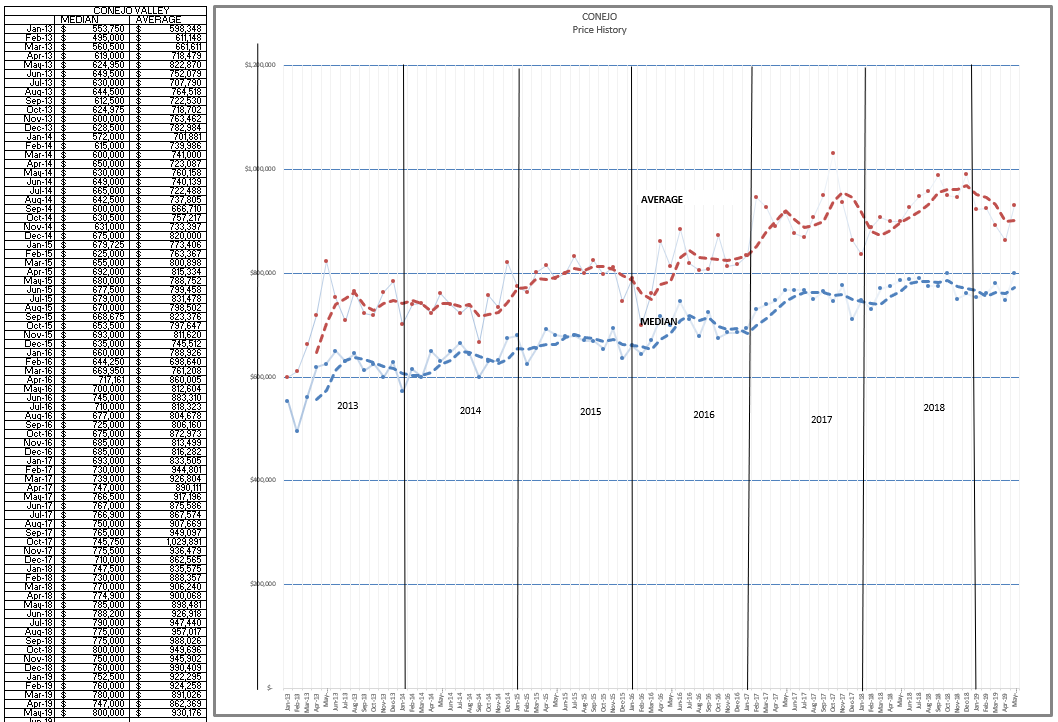 For Simi Moorpark, both lines show strength.  The distance (space) apart is not as pronounced as with Conejo, because the number of higher priced homes, while present, is not as great.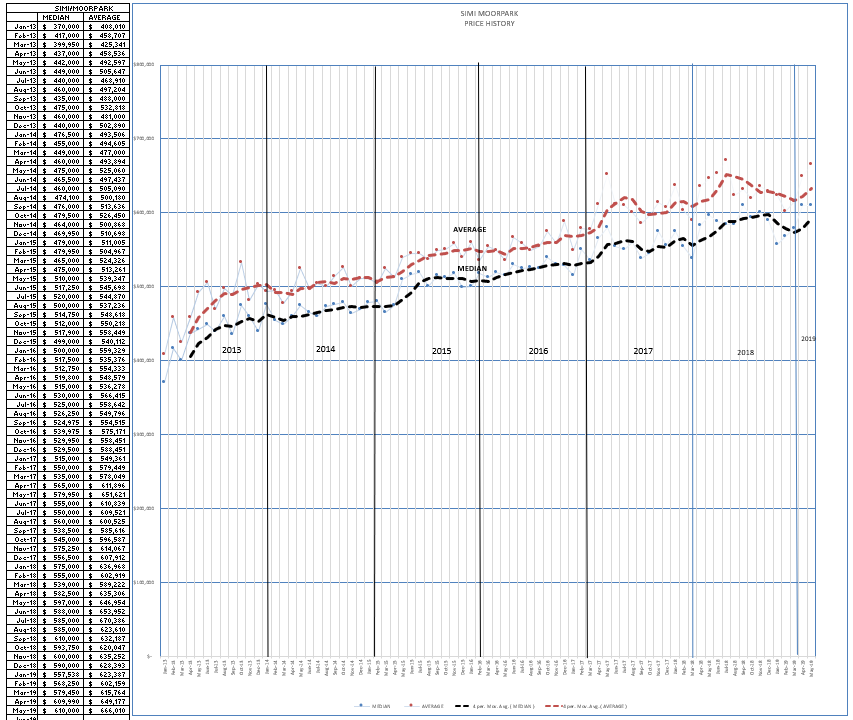 In closing, how to answer the question, HOW IS THE MARKET?
The market is doing well.
For Conejo, the market started out the year soft, but is coming back.  Prices have not risen, nor have they fallen.  The market is healthy.
For Simi Valley and Moorpark, the availability of inventory to sell has allowed sales to increase much better than last year, when inventory was unavailable.  Prices increased 4-5% compared to last year.  Your investment in your home has been doing well.
If you hear the term "June Gloom", it is describing the weather.  It is not the market.
Have an absolutely excellent June.
Chuck