First, there should be no concern about a bubble.
OK, not just going to take my word for it?
See this article from CNN.  A thorough analysis of why this is not a bubble.  Well done.
And now, as Paul Harvey used to say, for "the rest of the story".
Inventory remains low.  It began the year low and it remains low.  There are two reasons for inventory to climb.  Either more people list their homes, or sales begin to decline from the overheated level we have seen during the past 12 months.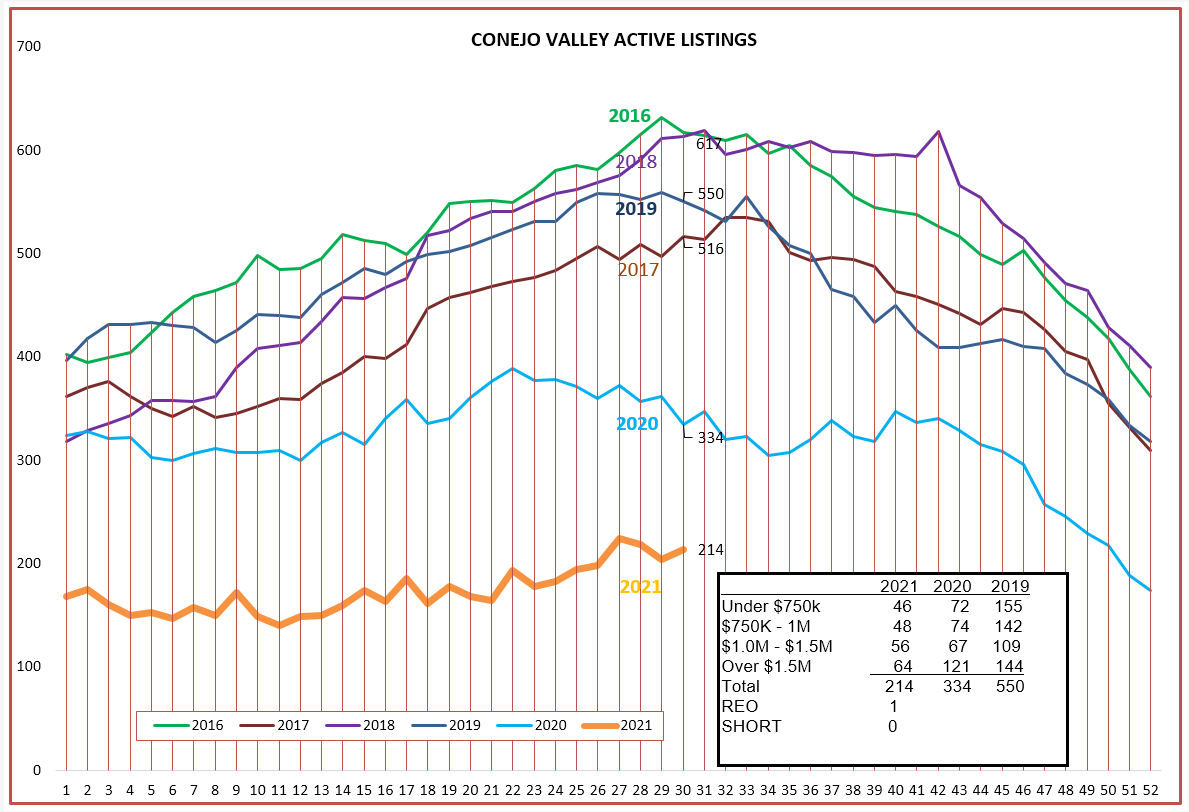 Sales have begun to moderate toward what we usually expect.  The orange line in the chart below displays the average history of closed escrows for the years 2015-2019.  The blue line shows what happened in 2020.  Covid caused sales to tank in early 2020, but then began to skyrocket as homes became very desirable.  Travel to/from work was no longer an issue.  Working from home became more attractive, even from the suburbs.  The first half of 2021, the red line, shows that sales are now tracking our normal average sales volume history.  So can we expect inventory to climb?  That will take a change in perception in the marketplace.  Homeowners will be happy to list their homes and buy another, as long as they are confident there is another one to buy.  Hopefully, interest rates will remain at this historically low rate.  As this scary perception of no home to move to slowly changes, and inventory becomes available, listings will increase.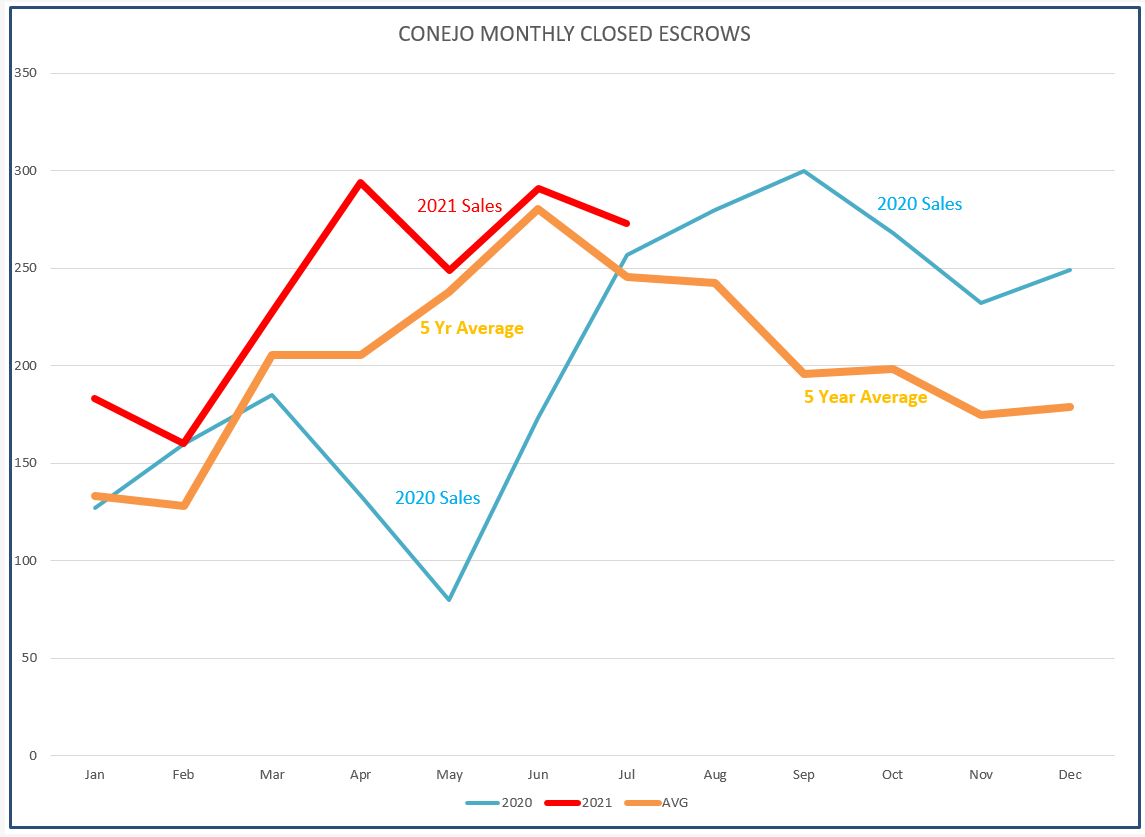 Another way to look at the same sales information is in the chart below.  The blue 2020 line shows that, as the year progressed, sales dropped significantly, but then increased to finish within the usual annual average, making up all the sales lost at the onset of covid.  The orange 2021 line displays how we began this year with sales above the average, but the slope of that line has now stabilized.  The space between the average lines and the orange 2021 line is no longer increasing, indicating sales are about on track with past years, but elevated because of the strong start as the year began.  Current sales are on track with what we expect at this time of year.  If this continues, we will finish with a very good year, above average, but the boost in sales will be due to the boost experienced in the first half of the year.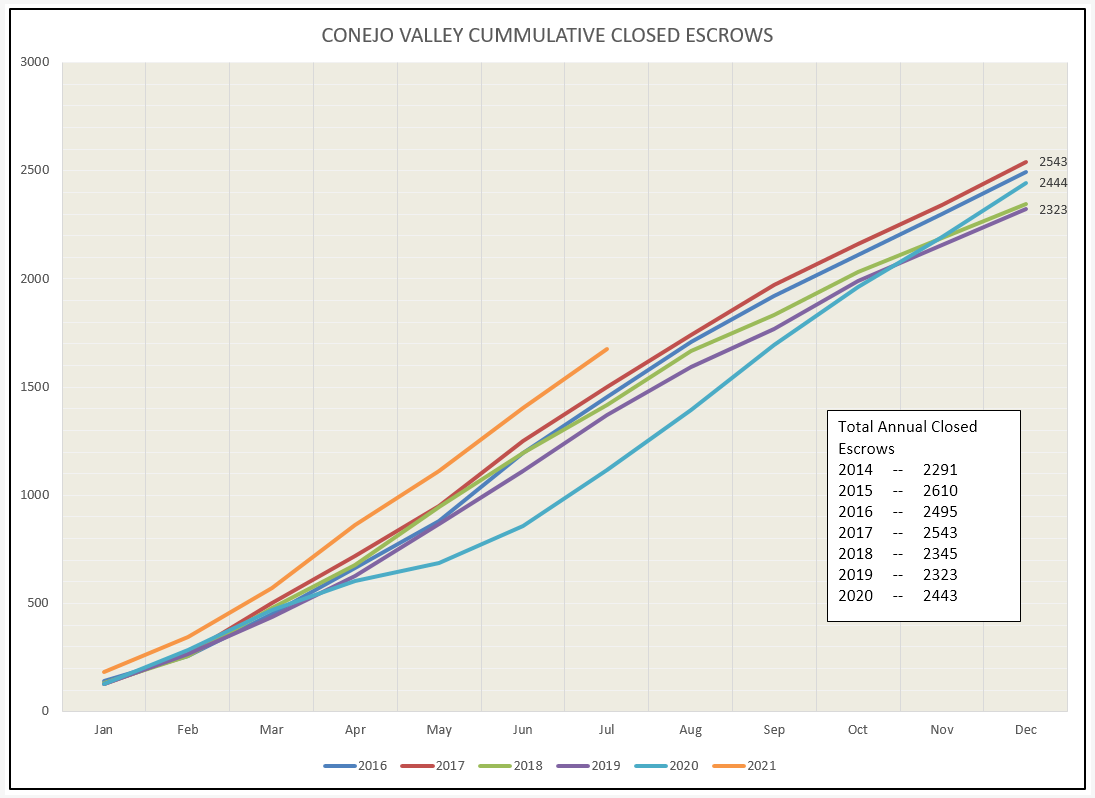 What has the strong increase in sales, along with the dearth of inventory, done to prices?  The median price in mid-2020 was around $800,000,   The median price mid-2021 is closer to $1 million, but appears to be peaking.  By that measurement, prices have increase 25% in the past 12 months.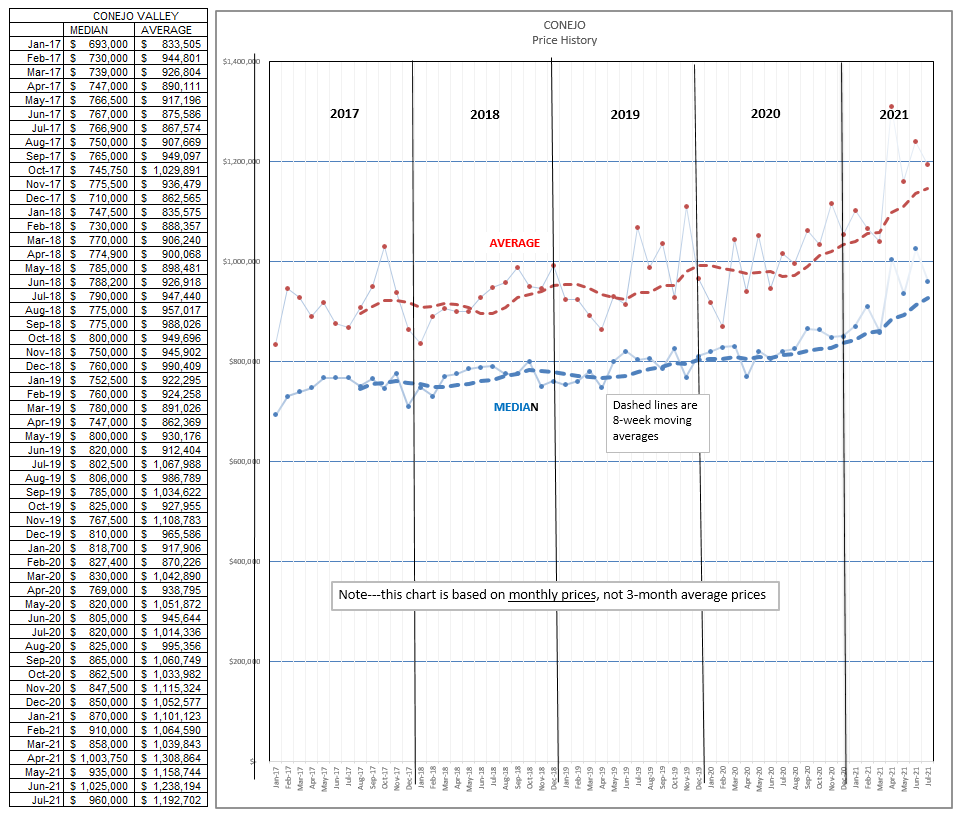 Finally, the statistical table of Conejo.  This chart compares the last three months experience with the same months last year.  Since those months represent the tail end of the covid slowdown and lower sales due to the initial response to covid, a comparison between the two periods can be misguided. However, some figures are worth noting.  This year, average days on MLS is down to 3 weeks, and months of inventory based on current sales is less than a month.  Looking at the bottom half of the chart, sales of homes priced below $750,000 are down in comparison, because there are fewer and fewer homes available priced below that number.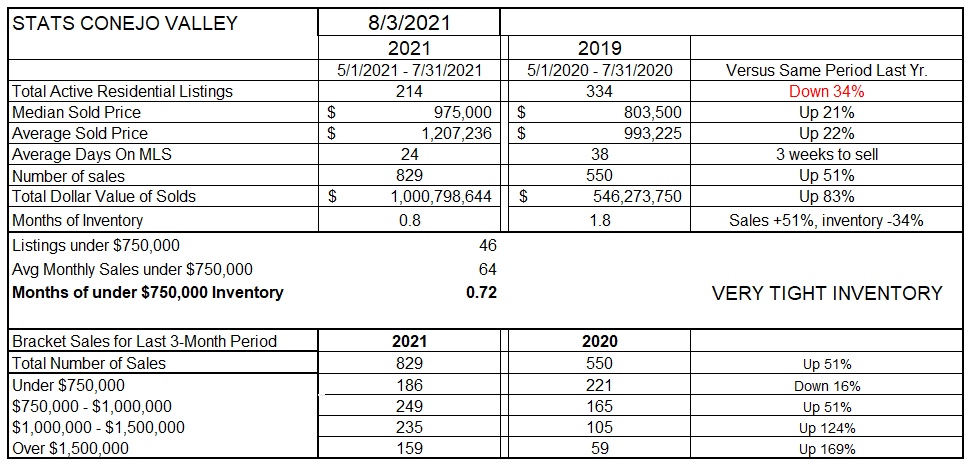 Now on to Simi Valley and Moorpark.  2020 was a difficult sales year for this area, as their inventory was historically low during all of 2020.  Last year started off with less than 150 homes in inventory, and rarely got above that number.  2021 started off with around100 homes, and seldom got much above that number.  We currently have the same inventory of homes that we had last year at this time.  Simi/Moorpark has felt the effects of low inventory since the beginning of 2020.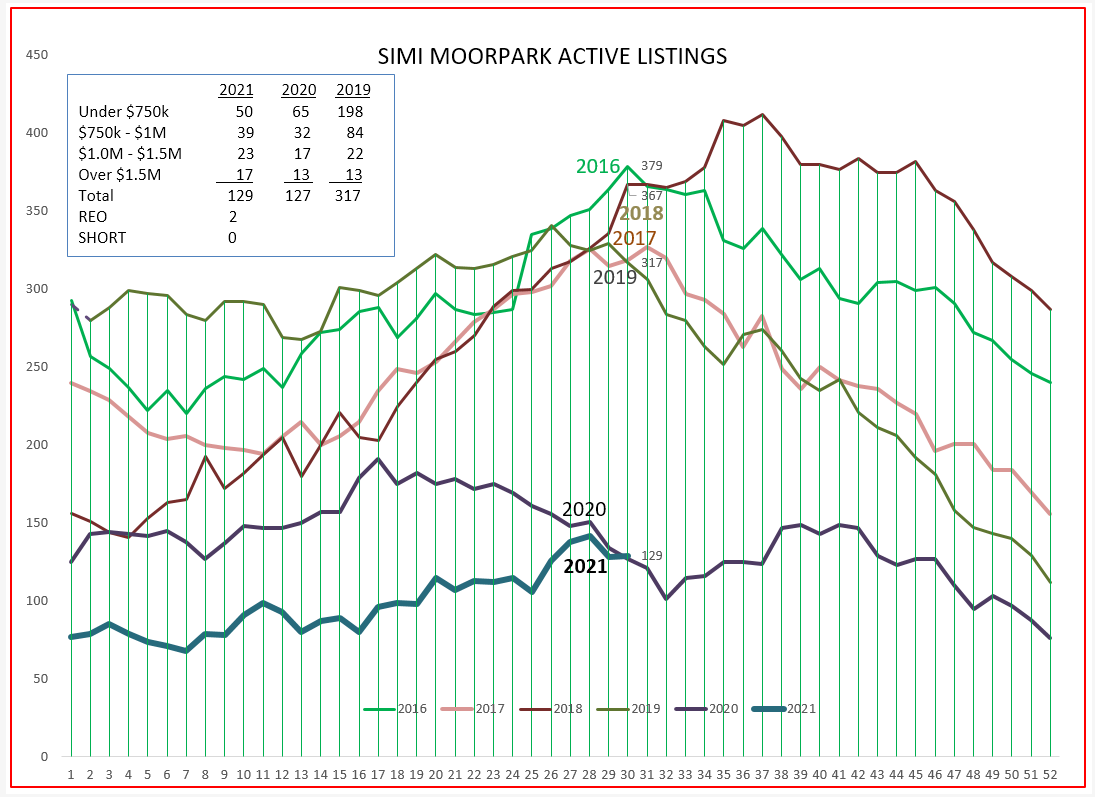 As homes came onto the market, they were snapped up quickly.  All last year, I wrote that Simi Valley/Moorpark sales would be higher if only they had more inventory to sell.  Covid made that worse, as housing became very attractive to buyers.  Simi/Moorpark sales remain strong, but with median prices significantly below Conejo were therefore more affordable.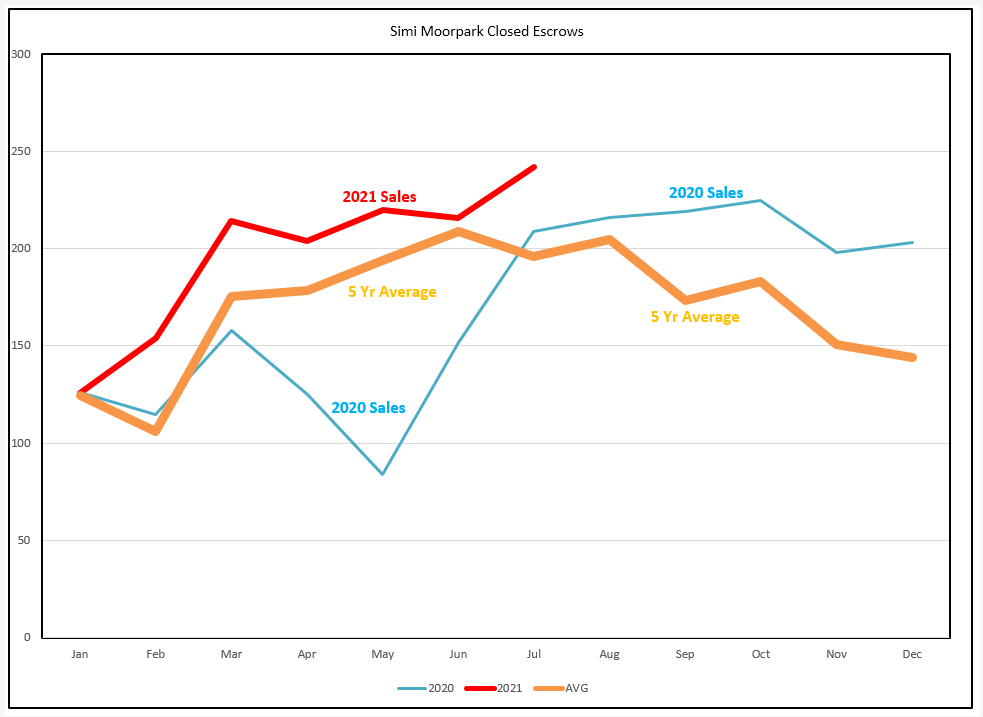 As the cumulative chart below shows, cumulative sales continue to ramp upwards, shown by the separation between the orange and purple lines.  Simi/Moorpark sales remain very strong.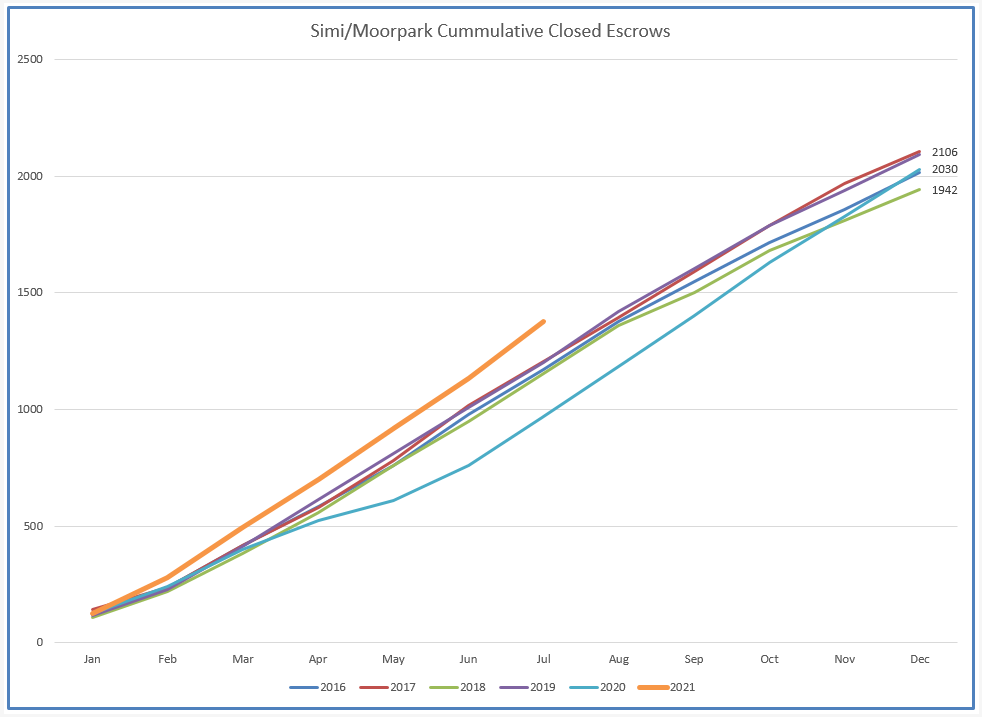 What has been the effect on prices?  From mid-2019 to mid-2020, median prices were very stable at $600,000.  Today that compares to median prices at $750,000, a price increase of 25% in a 12-month period.  What a great investment!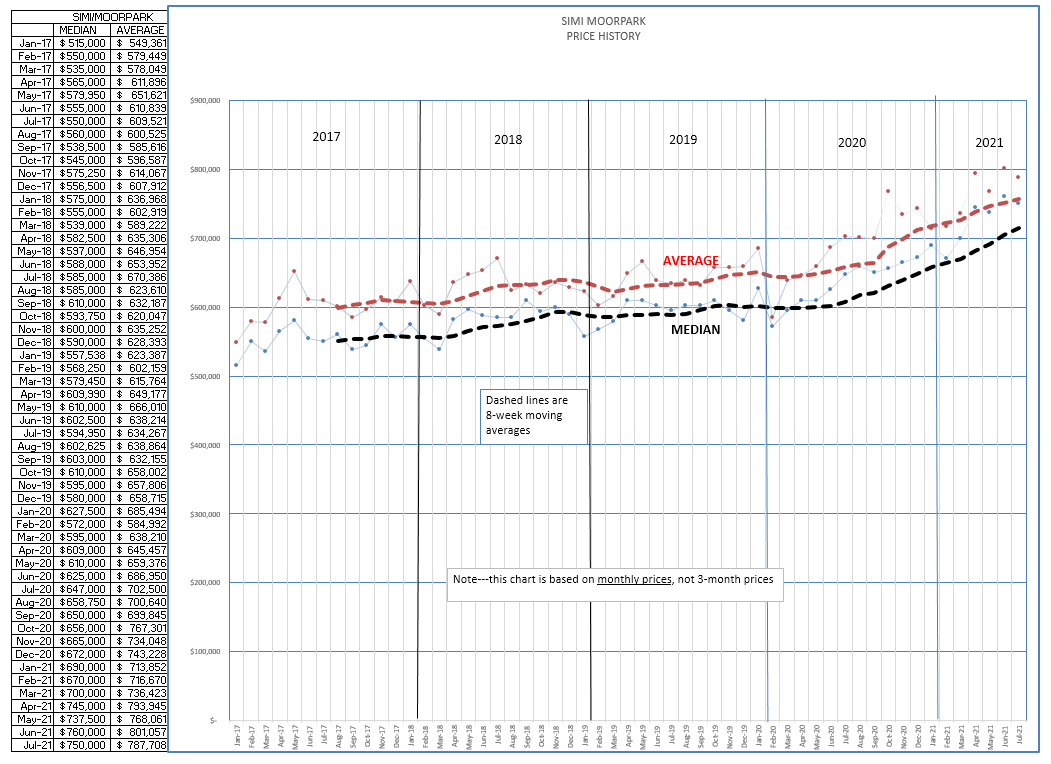 Finally, the statistics table.  Prices in this chart are not as strong as the Conejo figures because price increases began their rise at the beginning of 2020, getting a jump start on what covid produced.  The following figures are worth noting.  Only two weeks to sell a home on the MLS, a little more than two weeks worth of inventory, and for homes priced below $750,000, less than two weeks worth of inventory.  The bottom half of the table shows how the median price increase to $750,000 has begun to move sales into the next price category.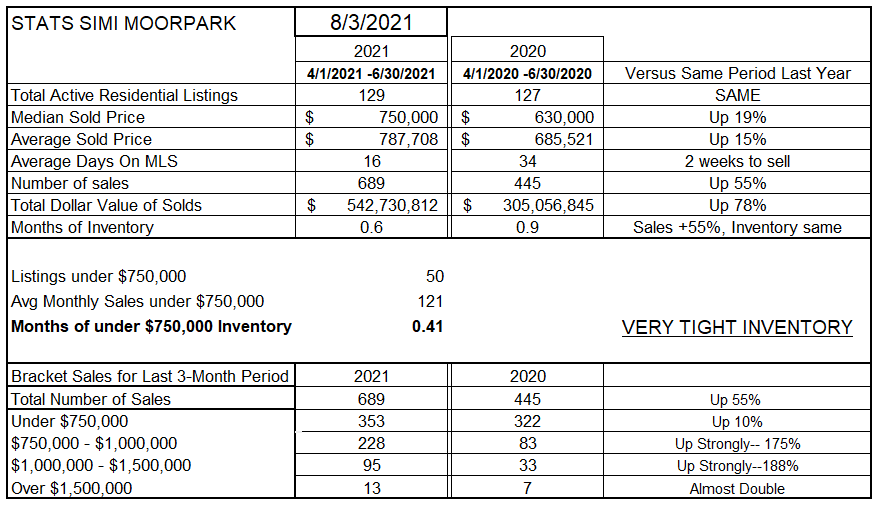 Is it slowing down?  It is beginning to show signs of slowing down.  Price increases are moderating.  The resurgence of Covid 19 version Delta has thrown us a curve ball.  Just as we thought the sun was finally shining brightly, some clouds reappeared.  But, getting back to the beginning of this writing, don't look for a crash in prices, or in demand.
In 1990 my daughter started law school at Tulane in New Orleans.  We ended up hiring a moving company rather than renting a van to drive.  There were no vans to rent in California, most people were moving out and there were few vans coming back in this direction.  The government had cut back drastically on R&D and Defense spending, and well-paid engineers were taking their retirements and moving to Denver and Oregon and Washington state.  Sound familiar?  We have been through this before.  California has many things in its favor, but it also has a mystique that makes it a great place to live.  Those basics are still strong.
Stay healthy.  Stay safe.  I am actually one of the few fully vaccinated that has tested positive for covid.  I had two Pfizer shots in January and February.  I went on a trip last week, and two days after I came home I had symptoms.  Symptoms like a bad flu, nothing so severe as to consider not recovering at home.  I am isolating, I am getting better, and I plan on being more careful.  Please do that yourself.  This thing isn't through with us yet.  Be careful out there.
But as for the market, the patient is alive and well and enjoying a very good year.
Chuck